Honeybee:
The Busy Life of Apis Mellifera

by Candace Fleming & Eric Rohmann

The New York Times
"a fascinating up-close view of the stages of a honeybee's life. … The drama and suspense are positively riveting."


The Horn Book
*starred review*
"the art and text together convey a holistic view of environment and organism, with excellent pacing through the complete bee life cycle."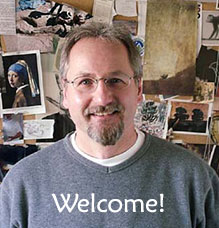 You found me! I'm glad you've stopped by to take a look.
Check back for news and updates and maybe a sneak peek or two at upcoming books.
Recently released ...
Giant Squid

by Candace Fleming & Eric Rohmann

Publishers Weekly *starred review*
"… The assembling of this creature from its parts to the whole, through both pictures and poetry, will captivate audiences young and old."

School Library Journal
*starred review*
"…Curious readers will be inspired by the engaging text and stunning illustrations to learn more about the giant squid. An essential purchase for science collections."

Bulldozer's Big Day

by Candace Fleming & Eric Rohmann

Kirkus Reviews *starred review*
Bulldozer's emotions of disappointment and joy, and the block prints have a warmth and authenticity that both entertain and endear Bulldozer to readers. Matte pages and an embossed cover add to its charm. A winning addition to the construction-vehicle shelf.

Click on either book cover to learn more.