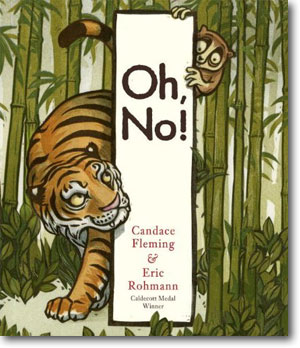 Oh, No!
Schwartz & Wade , September 2012
ISBN: 978-0-375-84271-9
hardcover picture book, 40 pages
ages 3 and up
Oh, No!
by Candice Fleming & Eric Rohmann
Young children will delight in repeating the refrain "OH, NO!" as one animal after another falls into a deep, deep hole in this lively read-aloud. This simple and irresistible picture book by hugely popular picture book creators—Candace Fleming and Caldecott medalist Eric Rohmann—feels like a classic-in-the-making. Fans of Rohmann's Caldecott Medal­-winning My Friend Rabbit, will be thrilled to see a new book created in the same expressive and comical style.
From Eric:

For a long time Candy Fleming have been looking for a project to work on together but none have been quite right for the way I make pictures. Then one day she handed me the manuscript for Oh, No! I knew it was for me. The jungle setting, a big cat, lots of rumbling and jumbling, goofy animals, and a cheeky ending that leaves the reader laughing and satisfied. As often happens, after the initial excitement I realized that I had to make a book where most of the action takes place in a hole. A deep,dark, hole. So I went to work and came to realize something I should have already known: the hole is the setting but the expressions, action and gestures of the animals are the story. Reader's would look first to the animals and if I got those right the book would be right as well.