New Release...available May 2015
Bulldozer's Big Day

by Candace Fleming & Eric Rohmann

Kirkus Reviews *starred review*
Bulldozer's emotions of disappointment and joy, and the block prints have a warmth and authenticity that both entertain and endear Bulldozer to readers. Matte pages and an embossed cover add to its charm. A winning addition to the construction-vehicle shelf.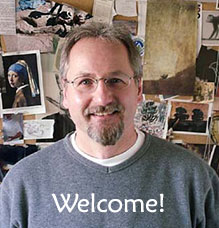 You found me! My new website is up and running and I'm glad you've stopped by to take a look.
Check back for news and updates and maybe a sneak peek or two at upcoming books.
Recently released ...
Oh, No!

by Candace Fleming & Eric Rohmann

Kirkus Reviews *starred review*
With text that begs to be read aloud and sumptuous illustrations made by a master printmaker,
this picture book reads like an instant classic …
Oh, yes! This is a terrific new picture book.

School Library Journal *starred review*
Rohmann's relief prints bring an exuberant humor to Fleming's rhythmic read-aloud. When an elastic-looking frog falls into a deep hole ('Ribbit-oops!'), a timid mouse, lugubrious loris, resourceful sun bear, and jaunty monkey all tumble down after him during unsuccessful rescue attempts.

Publishers Weekly *starred review*
It's a book with the feel of an older classic—
and it may well become one.

Click on either book cover to learn more about each book.